Do I need to create a Juggling Care Account or log in?
You're welcome to browse our website without doing so, and only need create a Juggling Care Account and log in for enrolling on our courses.
How do I start Juggling Care Online Learning Courses?




Occasionally, discount coupons are available and if you have one, please ensure you have the code to hand at the start as coupon codes cannot be applied retrospectively.


Make a note of your username, chosen email address and password and keep them in a safe convenient place.

The padlock icon and 'https://' in the website's URL in the bar at the top of the screen indicates the level of security provided by encryption to reassure you that you can securely enter your card details.
How to log in to your courses

Once you've completed the enrolling process, if you've ticked the box to receive emails from Juggling Care, you'll receive an email confirmation that contains a direct link to your courses. You can use this link to open your course, or rather than returning to your email each time ...

Once you have logged in (using the Navigation Bar button), click on the 'My Courses' button in the Navigation Bar. All your courses will appear in this tab so that you can click on the course you are currently working on.

Ho

w to work through your courses

Some people find it helpful to print a paper copy of each of the Contents Sheets for PART ONE, PART TWO, PART THREE and PART FOUR and the Suggested Time Guides to keep in an easily accessible place. This can be a useful way for you to quickly recall the topics you've covered and what ones are ahead.

When working through your course, once you've finished a session use the 'Complete and continue' button (top right hand corner of the screen) to register that you've completed that session and to continue to the next session.

Whenever you wish to return to the Homepage, click on the small turquoise 'backwards' button (top left hand corner of the screen) to firstly return to the Course Contents page and then click on it again to return to the Homepage.
What do the buttons and tabs on our webpages

do?

If you're new to using a computer, find out more by clicking here


Admin help
Once you've created your account and logged in, the Navigation Bar looks as shown below.

Clicking on the Avatar (circular silhouette/ photo in the Navigation Bar) makes the menu drop down: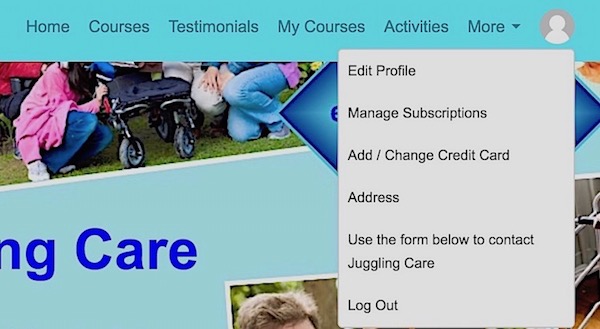 Using these menu choices you can:
Edit your Profile (this is where you can set your Avatar (optional), change your password and alter your notification preferences)
Manage your subscriptions - not applicable
Add/ change your credit card details - not applicable
Contact us at Juggling Care
Log out
Our courses are hosted on an online courses platform called Teachable. From time to time they need to schedule maintenance for which they try to give plenty of notice. Occasionally unforeseen hiccups happen and the platform is down for a short time. When that happens Teachable posts details of what's happening at
http://status.teachable.com
If you have any queries that are not answered here please
contact us

Accreditation: Owl 'J K Owling': part of Minerva's Owls of Bath 2018, painted by Jo McCarron, sponsored by MHA Monahans