Our aim is to encourage people who provide vital care for family members or friends by enabling them to develop support that really works in their particular caring situation. Empowered in this way, they build greater enjoyment into their everyday life.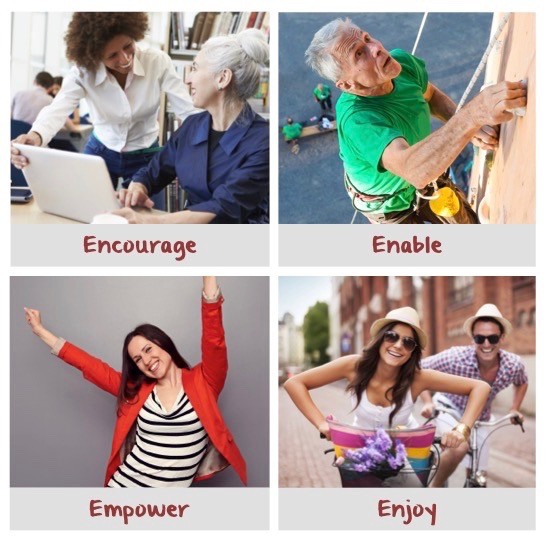 ABOUT ANNETTE

In the first part of her career, Annette worked in large and small businesses as an engineer and HR Manager. During this time, she discovered first-hand the challenges of being a 'sandwich carer' – a phrase that aptly describes how thinly spread someone can feel whilst, on the one side meeting the care needs of elderly relatives and, on the other side bringing up children! Then in 2010, having gained much-valued experience over the years, and having always enjoyed working with people, she trained and qualified as a professional coach.
The sudden death of Annette's father in 2011 brought big changes to their family. In the midst of grieving, she and her sister became responsible for their mother's long-term 24/7 complex care needs. For the following five years, they alternated (on a monthly basis) sharing their mother's care in their respective homes. Their mum enjoyed the variety this arrangement provided and, with having two sets of care equipment and dividing her clothes and personal possessions between her two bedrooms, it worked surprisingly well. Despite the round-the-clock intensity of their 'caring month', this shared care enabled both sisters to continue working flexibly alongside caring. However, when their mother's care needs increased to a level that they could no longer meet at home, they chose a nursing home nearby where, for the next four years, they continued to be closely involved in her care and everyday life.
Annette founded Juggling Care to help people who provide care for family members or friends who, because they're disabled, ill or elderly, couldn't manage otherwise. Her experience as a coach, working-woman and carer helps those who are working in paid employment whilst juggling care, as well as people who have full-time caring commitments. Her first-hand understanding of what empowers people to succeed in business and other areas of life, has meant she's been able to apply this knowledge to caring situations and make similar benefits easily accessible to carers.
Following successful face-to-face workshops, Annette developed the online video course Juggling Care and Catching the Smiles which has all the benefits of being available whenever and wherever someone has access to the internet. Its short sessions and flexibility to go at your own pace have (as you will see from the Testimonials) enabled many carers to improve their quality of life whilst enjoying providing better care.
Annette's husband Steve has worked alongside providing great support over the years through a wealth of technical skills, imagination and enthusiasm in his many roles in Juggling Care. Their four sons bring much happiness, variety and a wide range of interests to their lives. They both love dancing – so much so that, throughout the Covid restrictions, they've pushed the kitchen table permanently aside and have fun keeping fit dancing every day.
QUALIFICATIONS
Annette Merrick BSc MEng MIET
Qualified with Distinction as a Professional Personal Performance Coach at The Coaching Academy
Qualified with Distinction as a Professional Corporate & Executive Coach at The Coaching Academy
Qualified as a Certified Practitioner of Neuro Linguistic Programming at The Coaching Academy, ANLP accredited
Click on the link to view Annette's Linkedin Profile